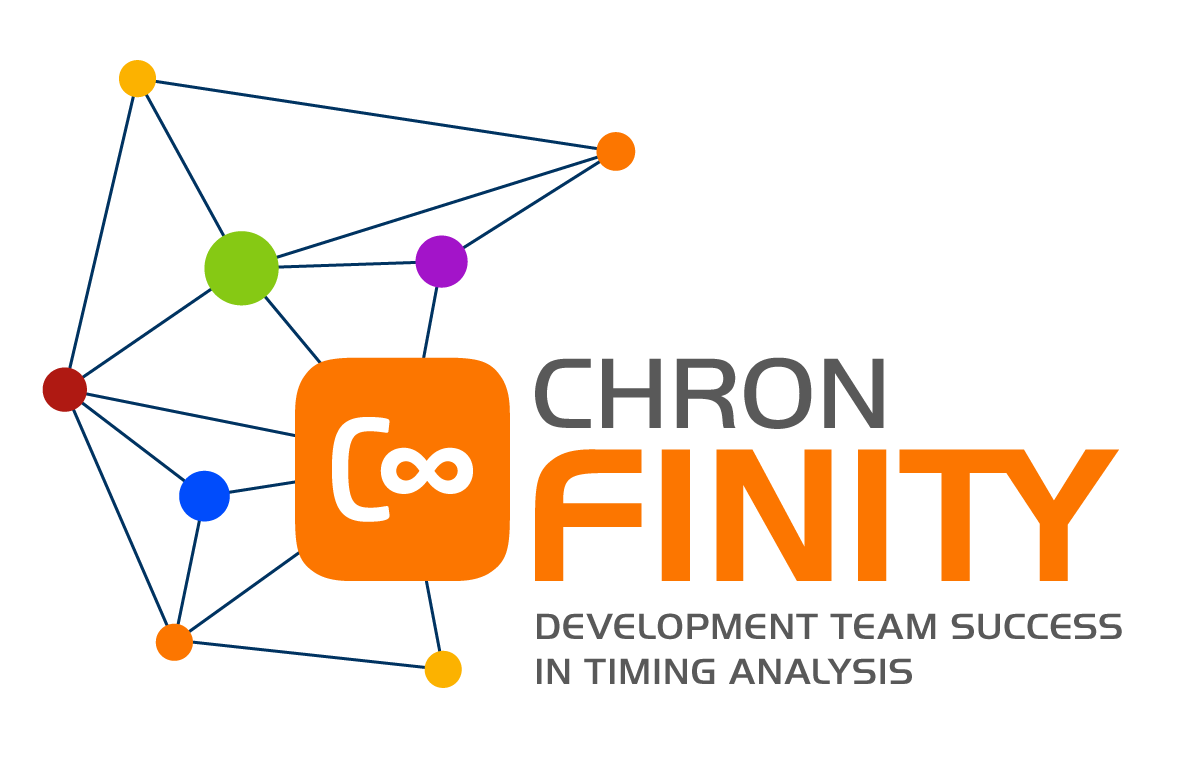 Work Seamlessly as a Distributed Team to Keep Timing Issues in Check
Imagine being in control of the timing challenges of your embedded system. Now imagine being in control while collaborating with your entire development team. Imagine no more: chronFINITY is here.
Hundreds of development teams have brought their sporadic failures, caused by timing issues, under control by using INCHRON's methodology and tools. chronFINITY helps them overcome the last remaining challenge – collaborating effectively with colleagues, suppliers, and customers on such issues.
No access to important trace files because they're on someone else's laptop? No longer a problem. Struggling to aggregate traces from test runs? A thing of the past. Fed up with the admin of cloud storage permissions for shared data? Now there's no need.
A New Way of Developing Embedded Systems
INCHRON's chronFINITY launches a new era of 24/7, worldwide accessible, collaborative development that has rarely been available to those building complex embedded systems. Most tools operate on a developer laptop, enabling efficient resolution of programming challenges on that device. But, as soon as collaboration is required, sharing the necessary files and configurations is a huge challenge.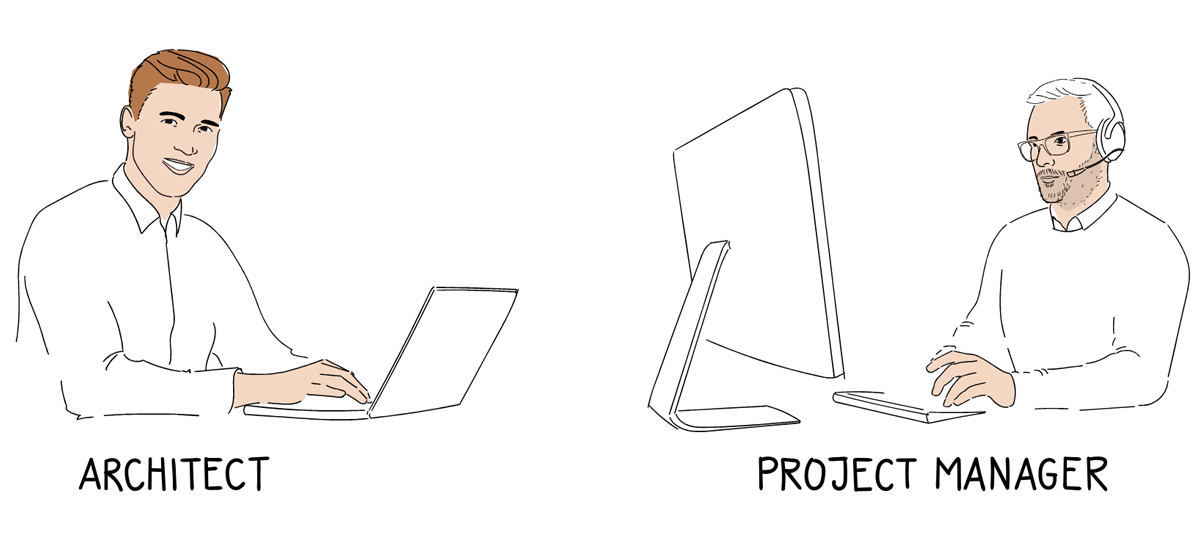 Collaboration is at the core of chronFINITY supported by its easy-to-use, browser-based interface. There's no need to install any software, and everyone always has access to the latest features. chronFINITY allows the results of hundreds of hours of testing to be peer-reviewed and discussed as easily as sharing photos from your last holiday. Of course, you won't want to share everything, which is why chronFINITY allows you to define who has access to your sensitive timing test data.
Review Timing Results like Never Before
Are things getting better, or are they taking a turn for the worse? Has the resolution of the timing issue in the previous software release caused a new one somewhere else? And have road tests resulted in a dynamic timing aspect that wasn't previously considered?
Using established statistical diagrams and the proven INCHRON timing methodology, a single developer or a distributed team can answer these questions in just a few clicks.

Quickly review your timing statistics in a box plot and determine where the quartiles, median, and mean lie. Compare collections of traces.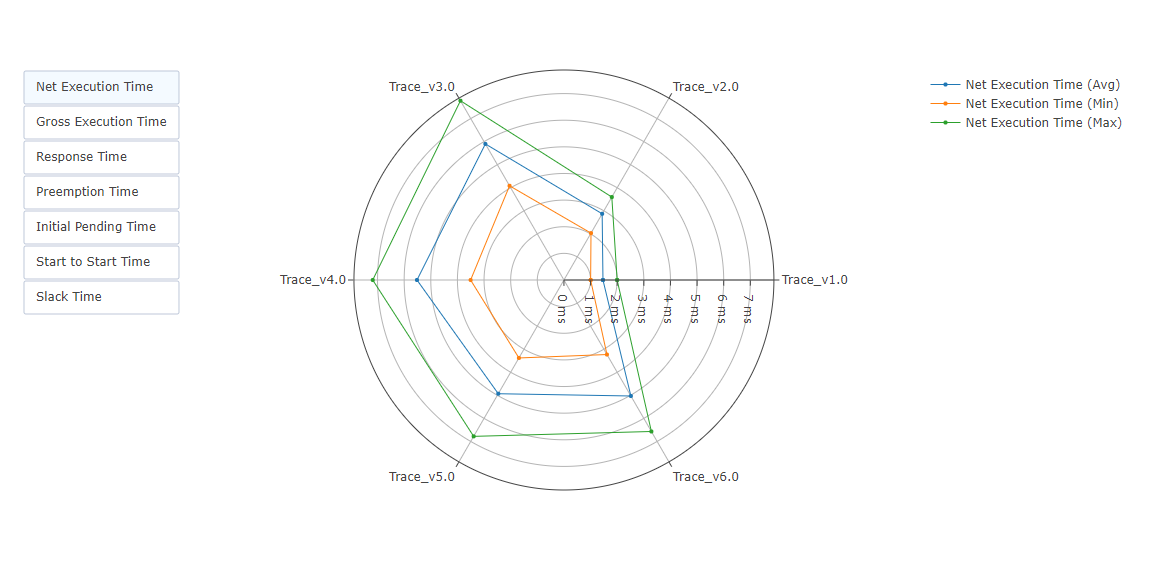 Clarify if system timing is improving with a radar chart by comparing parameter changes according to releases.
Stay in Control of Your Sensitive Data
Working in a team shouldn't mean that everyone can access your sensitive development data.
chronFINITY allows you to collaborate with whom you want, when you want, and in a manner that is compliant with GDPR.
Share the results of regression testing to be sure that timing is under control.
Perform analysis on aggregated test data and search for anomalies.
chronFINITY resolves the collaboration challenges that arise when distributed teams work on complex embedded software applications. Massive trace files, a diverse collection of analysis tools, and tiresome file-sharing processes and administration rights are a thing of the past. Here are just a few of the ways that chronFINITY can help:
Trace sets generated by HIL platforms, covering different real-life scenarios, and road tests can be aggregated by chronFINITY into simple-to-read diagrams. This allows the team to locate any anomalies.
System architects can rapidly compare different approaches. Compare and review chronSIM simulation results quickly as a team to efficiently find the optimal variant.
Compare chronSIM trace set results from sensitivity analysis and stress testing. Then use chronFINITY regression analysis to assess the impact of task priority changes on net execution time.
Are we moving closer to our timing requirement goals or further away? Efficiently compare traces from the current software release with previous builds.
No more delays due to trace data or results being on one person's laptop. All the data, all the results, and always available to the entire team.
All timing-related test data in one place with a full overview of the status for everyone to see. No more delays waiting for key personnel to provide access to files or to process test results.
Central repository for simulation test results. Quickly share impact of changes with distributed team members thanks to regression testing. Rapidly review results of road and HIL tests.
Efficiently perform HIL and road test trace aggregation. Produce impactful test results that pinpoint timing issues and failures. Provide fast access to trace results with minimal administration effort.
Keep timing in full view and enable your partners and customers to collaborate. Only share what you need with whom you need.
Get clear feedback on timing-related issues in the context of the big picture. Save time resolving the problem rather than determining it.
Closer collaboration with suppliers. Attain a clearer understanding of timing limitations and impact when integrating customized features.
Simple, safe, and secure login; fully GDPR compliant.
No installation needed – always up-to-date in your browser, 24/7, worldwide.
Flexible administration of users when providing access to your projects.
Storage of large trace data files.
Grouping of trace data results into trace sets.
Download of trace data for further analysis, e.g. with chronVIEW.
Analysis metrics and requirements review for:
– Processor load.
– Process execution incl. response time, net execution time, and more.
– Event chain analysis.
Analysis of individual trace files.
Regression analysis of trace sets.
Aggregation analysis of trace sets.
Support for INCHRON .isf and BTF trace formats (more in development).
Secure servers based within the EU.
Start Collaborating Today
A development team is only as effective as their ability to collaborate. chronFINITY places your team's collective skill, and that of your suppliers and customers, in a central location to tackle timing challenges early, efficiently, and jointly – GDPR compliant and on your terms.
Sign up for a free trial account today to discover the collective power of chronFINITY. A selection of demonstration projects are also available to show what's possible. Or, if you don't have time to get to grips with it yourself, get in touch – we'd be happy to guide you around personally!
To test chronFINITY today,
simply sign up for your free trial here.
If you'd like to discuss how chronFINITY can be integrated into your development process, or you'd like a personal guided tour, fill out the form below and we'll get in touch with you.