EMBEDDED ONLINE CONFERENCE
As the world rapidly moves from offline to online conferences we are now able to reach out to more people, and at a time that is convenient to them. We are lucky enough to be participating in the Embedded Online Conference (EOC), sharing INCHRON's insights into tackling timing issues in embedded automotive systems.
In our session
"Tips and Tricks for Avoiding and Fixing Real-Time Issues"
we will examine:
Why dynamic behavior is important for the development process.
How timing problems can be mitigated by simulation.
And the steps we recommend for detecting such problems early.
This presentation will be delivered by our colleague and
timing expert Olaf Schmidt.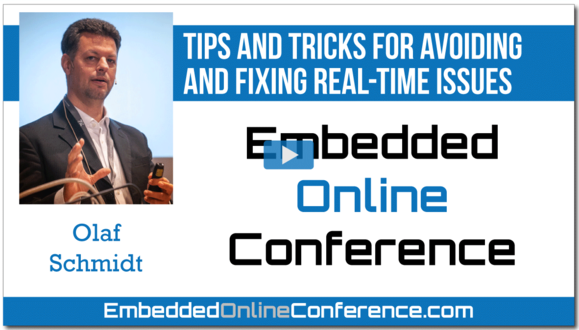 Note: a discount of as much as $200 is available with the discount code CORONA90.
Should you have any further questions after the presentation, feel free to get in touch – we'll be happy to help.
Yours,
INCHRON team
Dr. Ralf Münzenberger, Dr. Ingmar Roggatz, Olaf Schmidt
INCHRON AG, Neumühle 24-26, 91056 Erlangen, Germany;
Sitz der Gesellschaft/Domicile: Erlangen;
Registergericht/Court of Registry: Fürth HRB 16541;
Aufsichtsratsvorsitzender/Chairman of the Supervisory Board: Peter Düsel;
Vorstand/Executive Board: Dr. Ralf Münzenberger (CEO), Matthias Dörfel (CTO);
Please see our Privacy Policy.