D-EXPO AUTOMOTIVE,
October 19-21
From 19th to 21st October 2020, the D-EXPO AUTOMOTIVE virtual trade fair will take place. As well as exhibiting, INCHRON AG will deliver a lecture on the 21st of October presented by Dr. Ralf Münzenberger.
The title of the lecture is: "Find timing issues in embedded systems before they find you".
We would be grateful if you and your colleagues could join us at this new trade show, providing us all with an opportunity to catch up and share our latest developments.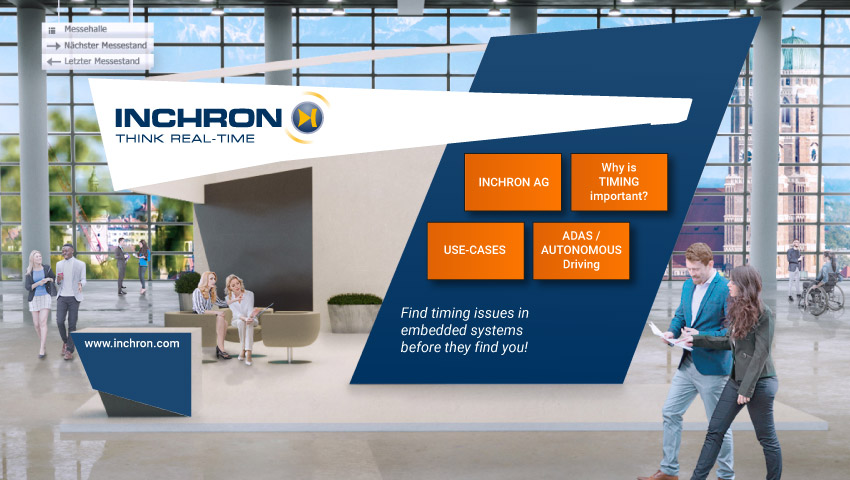 Our main areas of focus at this virtual trade fair include:
Advantages of using timing analyses, including use-cases, during the entire development process
Typical technical indicators highlightig timing problems and their potential causes
Advantages of early detection of timing issues
Performant AD/ADAS systems in vehicles
The D-EXPO AUTOMOTIVE is a virtual trade fair with topics such as
Electronics
Software development
Development tools
Measure-Test-Diagnosis for CASE applications (Connectivity, Autonomous Driving, Shared Mobility, E-Mobility)
The trade fair provides a platform for visitors to interact with us directly in live chat sessions. In addition, we will also provide a range of resources for download that will be available for a further week after the event.
See you there!
Yours D-EXPO AUTOMOTIVE team,
Dr. Ralf Münzenberger, Mesut Özhan, Dr. Ingmar Roggatz, Olaf Schmidt
INCHRON AG
Neumühle 24-26, 91056 Erlangen, Germany 
Executive Management: Dr. Ralf Münzenberger, Matthias Dörfel
Registered at Local Court of Potsdam (Germany) under file HRB 16541.
Please see our Privacy Policy.