HOW TO FULLY EXPLOIT YOUR HPC
Moore's Law has delivered the automotive industry a steady stream of technical advancements, enabling the powerful processors and SoCs we have available today. However, in the 2000s, the semiconductor industry saw a growing Design Productivity Gap.
 With every process node shrink, the number of transistors per die snowballed. The challenge was, how do you design the chips and verify them unless the available design tools keep pace?
 This same design productivity gap is a growing concern amongst the automotive software development community. Exceptionally powerful, SoCs with hetegogeneous hardware are available that are capable of virtualization, and, as part of modern E/E architectures, they should enable us to change how software is developed and deployed. However, we are still seeing projects struggling to complete on time and on budget due to difficult-to-find software issues.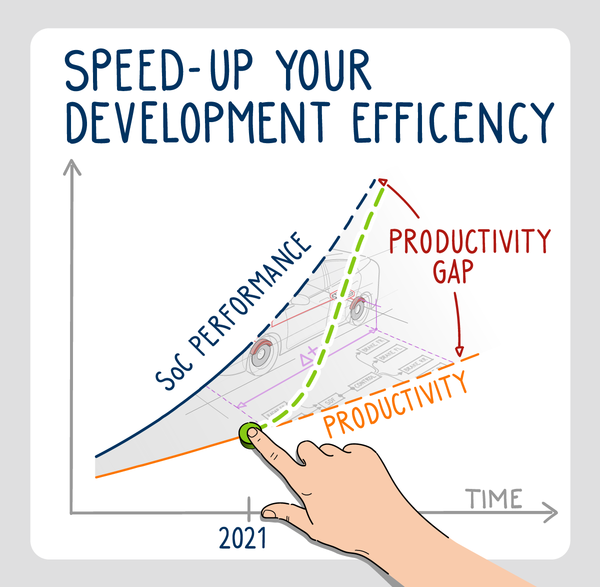 These issues are not linked to a lack of processor performance – there is plenty available. The challenge remains fulfilling real-time requirements to ensure applications, such as sensor fusion, always use the most recent sensor data, and actuators always respond in a timely manner.
 Modeling, software reuse, and thorough testing regimes have helped to keep the design productivity gap in check over the years. However, our experience has shown that placing timing at the center of your development methodology, alongside functionality, is the most effective way to minimize the gap.
You can learn more about the design productivity gap in our latest article on the topic here:
And, if you'd like to discuss the issue in more detail with us, get in touch – we'd be happy to learn more about the challenges as you see them.
Yours,
INCHRON team
Dr. Ralf Münzenberger, Dr. Ingmar Roggatz, Olaf Schmidt
INCHRON AG
Neumühle 24-26, 91056 Erlangen, Germany 
Executive Management: Dr. Ralf Münzenberger, Matthias Dörfel
Registered at Local Court of Potsdam (Germany) under file HRB 16541.
Please see our Privacy Policy.