We are thrilled to announce the release of our latest chronSUITE software version, packed with powerful new features and significant improvements aimed at enhancing your experience, with a primary focus on optimizing chronSUITE's usability and performance.
Our team has been hard at work to bring you a more intuitive and efficient software environment that empowers you to achieve your goals with ease.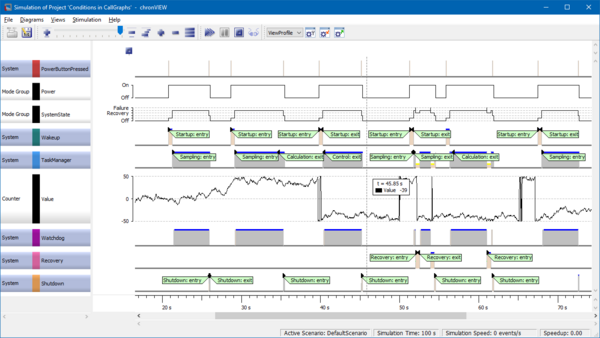 Let's dive into some of the highlights:
1. User-Friendly Welcome Page:
When no trace file or project is loaded, you will be greeted with a convenient welcome page featuring quick access links to commonly used functions, ensuring a smooth and efficient workflow.
2. Enhanced Model Editor Navigation:
Our model editor now tracks your navigation actions, making it effortless to revisit previous model elements or actions.
This streamlined editing process saves you valuable time and effort.
3. Filter Function for Improved Views:
We have introduced a filter function to the search bar in the model editor and chronVIEW dialogs, allowing you to hide unrelated items and focus on the relevant content.
4. Customizable Colors for Model Objects:
You can now personalize the colors used for specific model objects in chronVIEW, allowing you to tailor the visual representation to your preferences.
5. Seamless Navigation with Histogram-Sample Correspondence:
A new feature allows you to navigate from a sample in the histogram of a timing metric directly to the corresponding time range in the trace view, saving you time and effort in analyzing your data.
6. Improved Visualization of 'Dense Mode' in Process State Diagram:
We have enhanced the visualization of the 'Dense Mode' in the process state diagram, making it easier to distinguish from the 'Running' state for better clarity and comprehension.
7. Automated Y-Axis Scaling for Time Series Diagrams:
We have introduced a new 'Fit Scale to Range' function that automatically scales the y-axis of a time series diagram based on the values in the visible or selected range, improving data visualization.
8. Modeling Support for Semaphores with Priority Ceiling Protocol:
We have added modeling support for using semaphores in combination with the priority ceiling protocol (PCP), giving you more flexibility in system design.
9. Introducing '/report.iprx' REST API Endpoint:
A new REST API endpoint, '/report.iprx,' allows you to retrieve an IPRX file with report results.
This file can be utilized for your XML or XMI processing of timing and performance metrics.
10. Enhanced Performance:
We have made significant improvements to the metric framework and simulation speed on Windows, resulting in faster performance and smoother simulations.
11. Revamped Statistics View and Excel Reporting:
Results are now divided into different tables by category, providing a structured and organized presentation of timing and performance metrics.
12. Clearer Error Codes in chronSim.exe Output:
We have made error codes in the chronSim.exe output more understandable, making troubleshooting and issue resolution more efficient.
13. Bug Fixes:
Last but not least, we have fixed numerous reported bugs since the last version, ensuring a more stable and reliable software experience.
We are confident that these new features and improvements will empower you to achieve even greater productivity and efficiency in your work. We encourage you to explore the latest version of chronSUITE and experience the benefits firsthand.
Request your FREE TRIAL of chronSUITE 3.3 today:
Thank you for your continued support and valuable feedback. We are committed to providing you with the best possible software solutions to meet your evolving needs.
 Should you have any questions, our dedicated support team is always here to assist you.
 Happy exploring and productive modeling!
Best regards,
Mesut Özhan
Product Manager
INCHRON AG
INCHRON AG
Neumühle 24-26, 91056 Erlangen, Germany; Executive Management: Dr. Ralf Münzenberger, Matthias Dörfel; Registered at Local Court of Potsdam (Germany) under file HRB 16541
Please see our Privacy Policy.